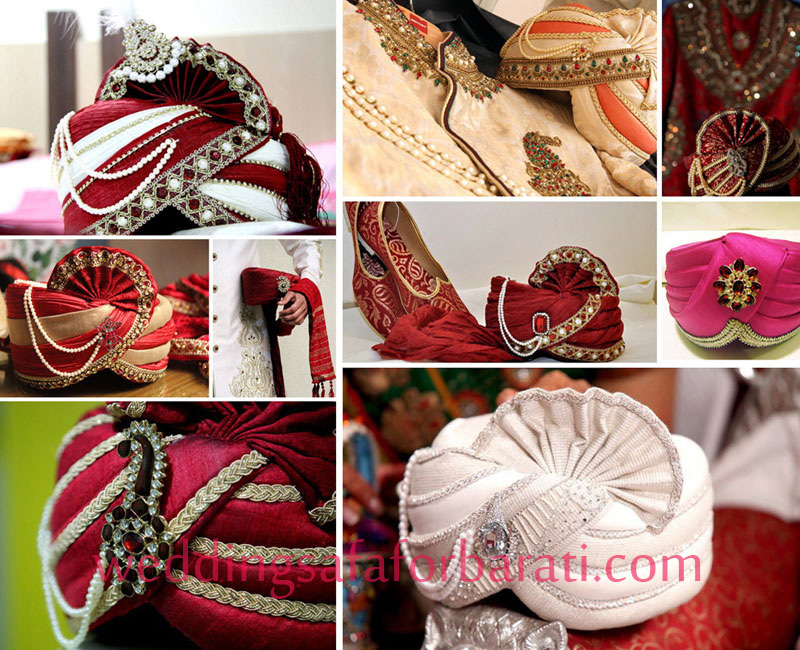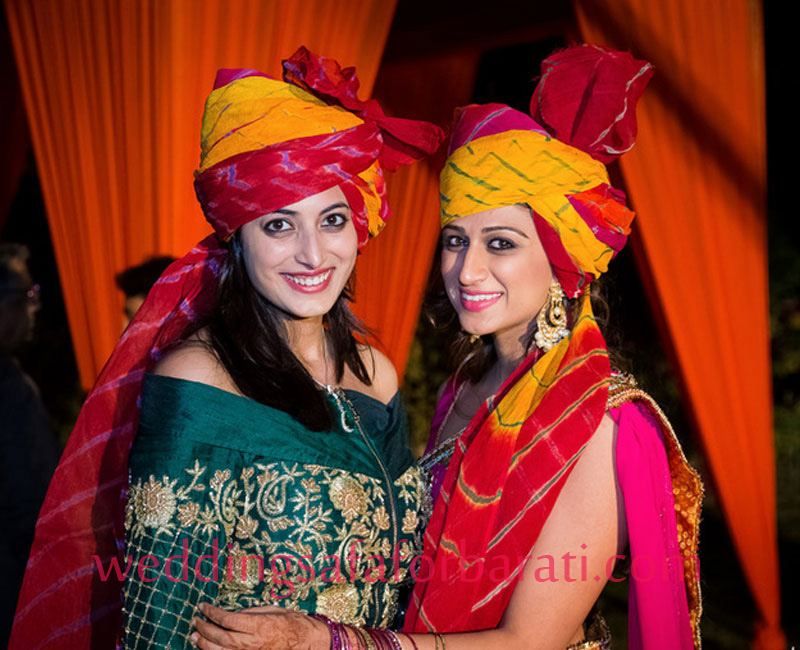 Rajasthani Wedding Safa
Just as the Indian bride looks incomplete without the bridal makeup and heavy bridal attire, the indian grooms also lack something in their looks without the traditional head cover called turban or safa.

safa are inherited from our rich culture. It has been worn since centuries. It is the symbol of pride, honour and nobility. Safa is mainly worn in rajasthan and they are the royal heritage of rajasthan. The five different coloured panchrangi turbans is the pride of men there. These safa are now decorated with beads, mirrors, embroideries, zari work etc to give the groom more royal look. The trend of safa was dying out few years back but thanks to the media and film industry for bringing back again this royal fashion in hand. The beautiful safa worn by stars like Abhishek bachchan, virat kohli, shahid kapoor in their weddings is setting the trend not only in rajasthan but also throughout India.

Rajasthan is a royal and most colorful state. By the way of celebration and dressing it still proves that how the royal touch is still present. Safa is the most important part of their dressing in any celebration. Every region in rajasthan state has its own style of tying safa.

Even the style changes with occasion. Sometimes they even organize the safa tying competitions. The colour, style and clothing material changes as we move from one place to another. There are some experts who can even tie 8 meters long safa. safa are gifted in rajasthan as a symbol of good wishes.

Mainly there are two kinds of rajasthani safa. First one is the jodhpuri safa and the second one is the jaipuri safa. The Jodhpuri safa is 27 feet long and 41 inches broad. Jodhpuri safa are mostly used during rajasthani weddings. They use different fabrics like cotton, zari, bandhej, georgette etc. The most common is the chunari print safa. For grooms safa are decorated with jewellery, stone, beads, gems. In wedding ceremony mostly red and pink safa are preferred.

In Rajasthan the style, colour pattern changes as we move some distance to different regions. The Marwaris wear light colored safa, the Jatts wear white safa, and the Rajputs wear bright colored safa mainly red and yellow colour which would give them royal look.

Although wedding safa have become costly these days but one gets married only once. You can surely not keep the royalty of a groom at stake. It reflects how you have still treasured your culture and tradition. There are several places where you can still get safa at very reasonable price. The Bikaner festival and the Camel festival shows you the true vibrant colurs of rajasthani safa. Before safa was used to keep the protect the head from heat, injury or the men would wear it to use it as a pillow but now it is more likely to be considered as a pride for men.