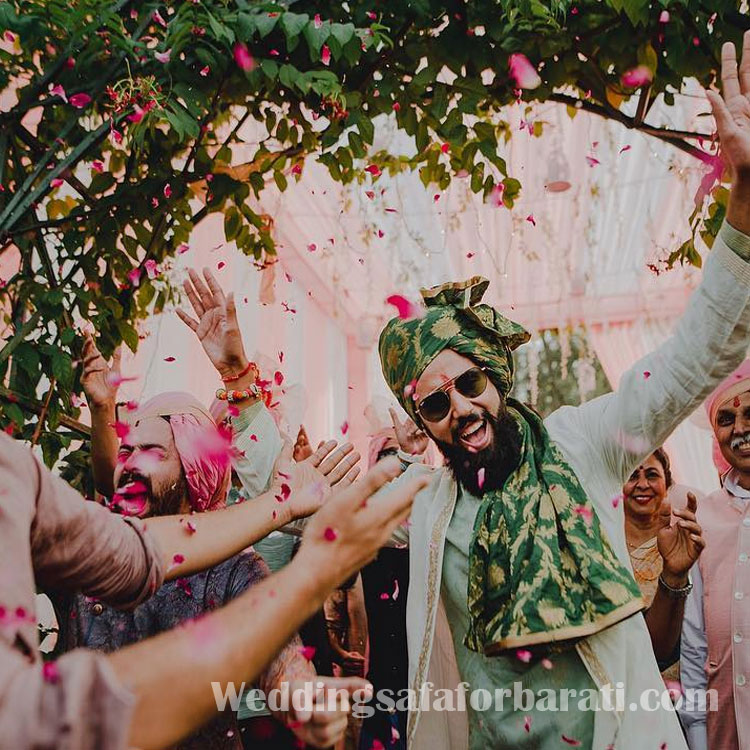 Floral Safa
Floral safas are at the top of the 'stylish accessories' list today. They are the fashion statement which is never going to get old. They look like a crown on the heads. It can be worn with any outfits and these look great. Turbans have always had special importance from the cultural and religious point of view in Hindu and Sikh religion. At weddings, they are the quintessential stuff that is like a cherry on the cake on the groom's attire.

Not only the groom but the guests also wear turbans. There are many reasons that people should have these turbans in their wardrobes. They are the accessory which is not just used in weddings but can be paired with anything you wear. Below are some reasons that will compel you to buy Floral Safa Online from our online store at 'Safa For Barati'.

1) These Can Be Worn With Any Outfit

Floral safa have this special quality that makes them stand out from other types of turbans that are present in the market today. These can be worn with any outfit, you wear an ethnic dress or you wear the western outfit, this safas pair-up with everything. One could doubt about the look these safa have with the western dresses like ripped jeans and T-shirt. Wait for a second! The contrast in this scenario looks like a mix of India culture and a touch from the west and it looks beyond amazing. Moreover, many designers are working on this style of ethnic and modern mix to take this fashion trend several notches higher.

2) A Signature Of Hindu Marriage

The old safas of bright colors have become boring nowadays but if you are from a traditional clan, you have to don them anyway. If you are thinking that the safa is not at all matching with your dress, then we have the best solution for you. We have floral safa online. The thing with floral safa is that they appear ethnic and modern at the same time. So when you wear floral safa in marriages, you keep the cultural identity of safa alive and also do not sacrifice with style. This is because the floral safa have the quality to blend with any type of wearable.

3) Room For Experiment

There are so many fabrics available in the realm of floral safa that you can have a different one for your different outfit. For example, if you choose a chiffon safa, it will not rise very high on your head and will give a subtly stylish look. If you have a fabric of thick cotton, it will surely irse high on your head and will give a typically festive look to your whole appearance. The aforementioned festive look is the best for big fat Punjab wedding. This clearly shows that you can experiment with the fabrics and don the look that you desire for. You can even get a customized safa for yourself.